Societies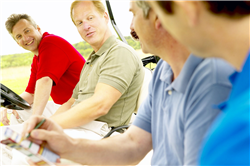 Thank you for considering our club as a venue for your society's day out. We have everything that any visiting golfing group could ask for, whether that be just 18 holes of golf or a complete day of breakfasts, 9 holes of golf, a light lunch, followed by 18 holes of golf on buggies before finishing off with a tasty two course meal. We are of course able to tailor any of our packages listed below to your exact needs. We look forward to giving you a warm Hart Common welcome.

Societies are welcome at Hart Common Golf Club 7 days per week. The first tee on the Hart Common course is available Monday to Friday All day and Saturday, Sunday & Bank Holidays from 11 am. Prices are per person and include VAT at the standard rate. Society packages and prices are available to pre booked groups of 8 or more.

We are of course able to tailor packages to your party's exact needs.

Also available:
9 hole par 3 Academy Course
21 bay Driving Range
Buggies – requires pre booking (subject to terms and conditions and availability)
Feedback from ...
This one is available for all to read and more on Teeuplo.co.uk -Well this was a surprise hit for all of our group i think, a real hidden gem. At the start of the season you look at the fixture list and some courses stand out as ones you really look forward to, next year Hart Common will be one of those. Not many courses are in such great condition, flat tees, manicured fairways, lethal rough and as for the greens...

Even the bunkers were great, and the cuts around the greens, i could go on. But those greens. Mega fast, down hill puts were almost impossible, breaks everywhere, even a 2 foot putt needed careful consideration. Possibly the most challenging greens i've played, the only way to score well here would be to know which parts of the green give safe putts, and to be accurate enough to hit them.

The course itself requires accuracy over distance but thats not to say there isn't the odd long par 4 which requires both. A good mix of holes, with each feeling unique, its a round that you wont want to end.

A credit to whoever owns and runs after the course, its a belter, cant wait to return.

Royal Oak Golf Society who visited us on Sunday 26th June 2016.