The Academy Course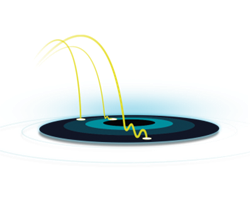 You are able to practice those little feel shots that make all the difference to your handicap. All the holes enjoy good sized, firm greens, well placed bunkers and grassed tees. It is not an accident that the Lancashire Girls section practice regularly on this course, as it is perfect for developing your game, and a fantastic place for any budding golfer to begin playing.
| | | | | | | | | | |
| --- | --- | --- | --- | --- | --- | --- | --- | --- | --- |
| Hole | 1 | 2 | 3 | 4 | 5 | 6 | 7 | 8 | 9 |
| Yards | 51 | 46 | 49 | 51 | 84 | 110 | 77 | 155 | 71 |
| Total | 694 | | | | | | | | |
Practice Holes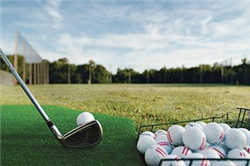 This is a fantastic facility that not very many other clubs can offer their members. We have 3 full sized holes on which to practice every aspect of your game.
Hole 1 - 317 yards par 4. A right dog legged hole with danger to the right and thick heavy rough to the left. The green is protected by a large bunker in front and a water hazard to the right had side.

Hole 2 - 323 yards par 4. Big hitters can go for this green over the trees, us mere mortals are best to follow the fairway. both type of player will have to work hard to avoid the long line of pot bunkers protecting the green.

Hole 3 - 168 yards par 3. Danger from the tee comes form both sides for anything wide, and in the shape of a large high edge bunker across the front of the green with another bunker protecting the right hand side of this large undulating green.
This practice area is available to all full members as part of their subscriptions. Other members may use this area for a charge, please see shop for details.
Practice memberships are available for £125, that includes the use of these three holes and the Par 3 Academy Course. As with all our memberships they run from April 1st to March 31st the following year.
Golfers should be aware that a public footpath runs across holes 1 & 2 of this practice area and care should be taken and golfers must give way to walkers.
Driving Range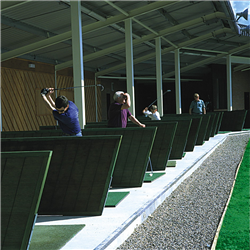 Our floodlit driving range is open from 9am till 8:30 pm Monday to Friday, and until 3:30 pm Saturday and Sunday. We use high quality range balls, and have distance markers (in yards), flags and chipping nets placed around. All 24 bays are equipped with mats and a selection of tees in various heights are available. Whether you are warming up before you commence your round, or practising your swing, our driving range is the perfect place to do it.
Practice Green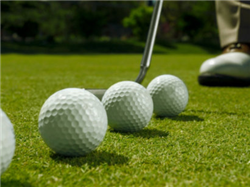 We have a large practice putting green, built to the same exacting standards as the greens on the course. The practice green is open whilst it is light, (except for essential maintenance) and available to anybody using our facilities. We do ask that appropriate golfing attire is worn whilst on the practice green.
Buggies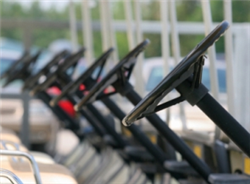 Take the strain out of playing by hiring one of our many buggies. You are advised to book in advance and there are terms and conditions that you need to read and sign for before your round.